Posted for Dr. Jayakar Thomas of Royapuram, Chennai, India. Please comment here or reply directly to Dr. Thomas at thomas_j@vsnl.com
The patient is a 21 day old female infant who presented with multiple generalized vesicles of two days duration. Her mother had developed varicella two days post-partum.
Physical Exam: A normally nourished child with multiple vesicles over erythematous base. Child had low grade fever. There were no oral or genital lesions and no other mucosae were invoved.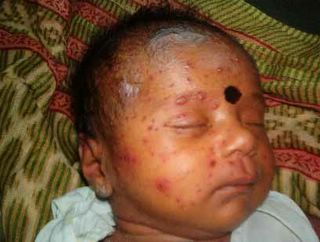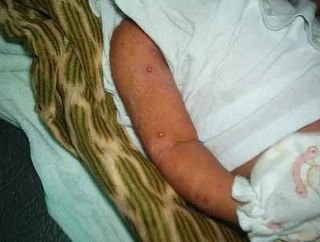 Laboratory: Nil relevant
Histopathology: Not done
Diagnosis: Neonatal varicella (NV)
Comments: NV is not seen very commonly. It usually occurs when the mother has an attack of varicella during post partum period as in this case. The child presented here was treated with IV aciclovir with good results.
Varicella occuring in the mother during pregnancy may end up in congenital varicella syndrome in the new born.
Questions: What are the members' experience with neonatal varicella.
Some pediatricians do not use aciclovir and manage with supportive measures and antibiotics. Are they justified?
I personally feel that all children with varicella should be treated with aciclovir or appropraite antivirals. This will definitely bring down the chances of herpes zoster at a later date, given the scarring, pain, and other sequelae of herpes zoster.